Slime Science Party
Excellent for Ages 6 and over
Roll up your sleeves and get ready to get GOOEY! This hands-on party includes five very different types of slime, from one you can eat to one that moves by itself!
Your child will love learning the science of what makes things slimy! This indoor or outdoor party is a sure hit!
What parents are saying about Nanogirl Parties
"I cannot recommend Nanogirl enough! We had the Slime Birthday party for my 6 years old every single kid at the party loved it!! "Best day ever" in their exact words. Thank you so much Nanogirl for making science fun!!!"
"Thanks for a fantastic slime birthday party for our daughter & her friends! Loved how much they enjoyed learning how to make slime and the science behind it too. Highly recommend."
"Sublime Sarah was awesome! The kids were captivated and loved making all sorts of slime. Very professional, no mess, happy birthday party all way round! Thank you!"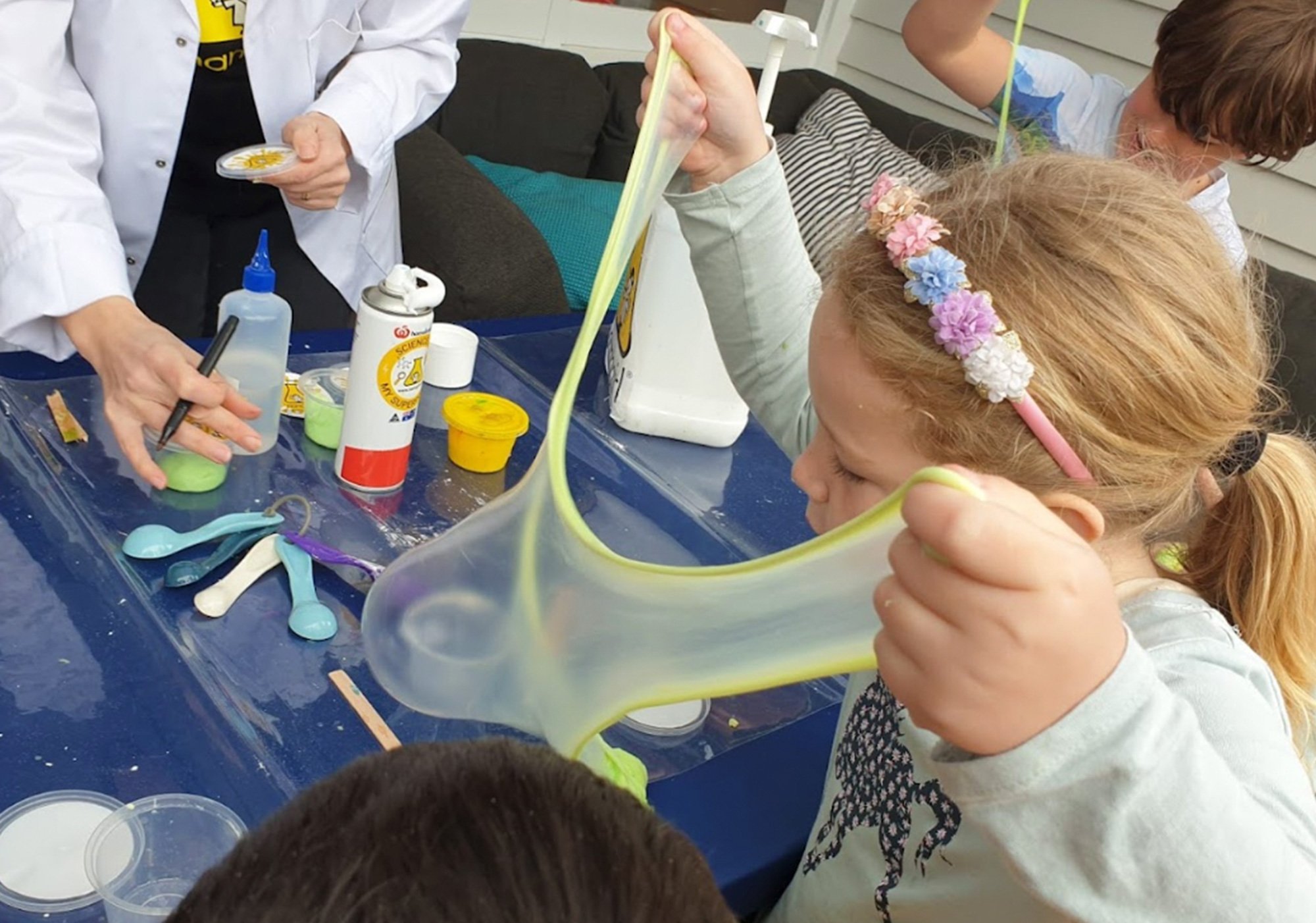 What's included in a Slime Party?
---
1-hour of interactive slime science entertainment with your Nanogirl Scientist!

All the equipment for all the experiments. Waterproof drop cloths contain any mess, and we clean everything up at the end of the show!

A pair of science safety glasses for the birthday child to keep

Take-home slime pot and slime for each child

Priced from

$320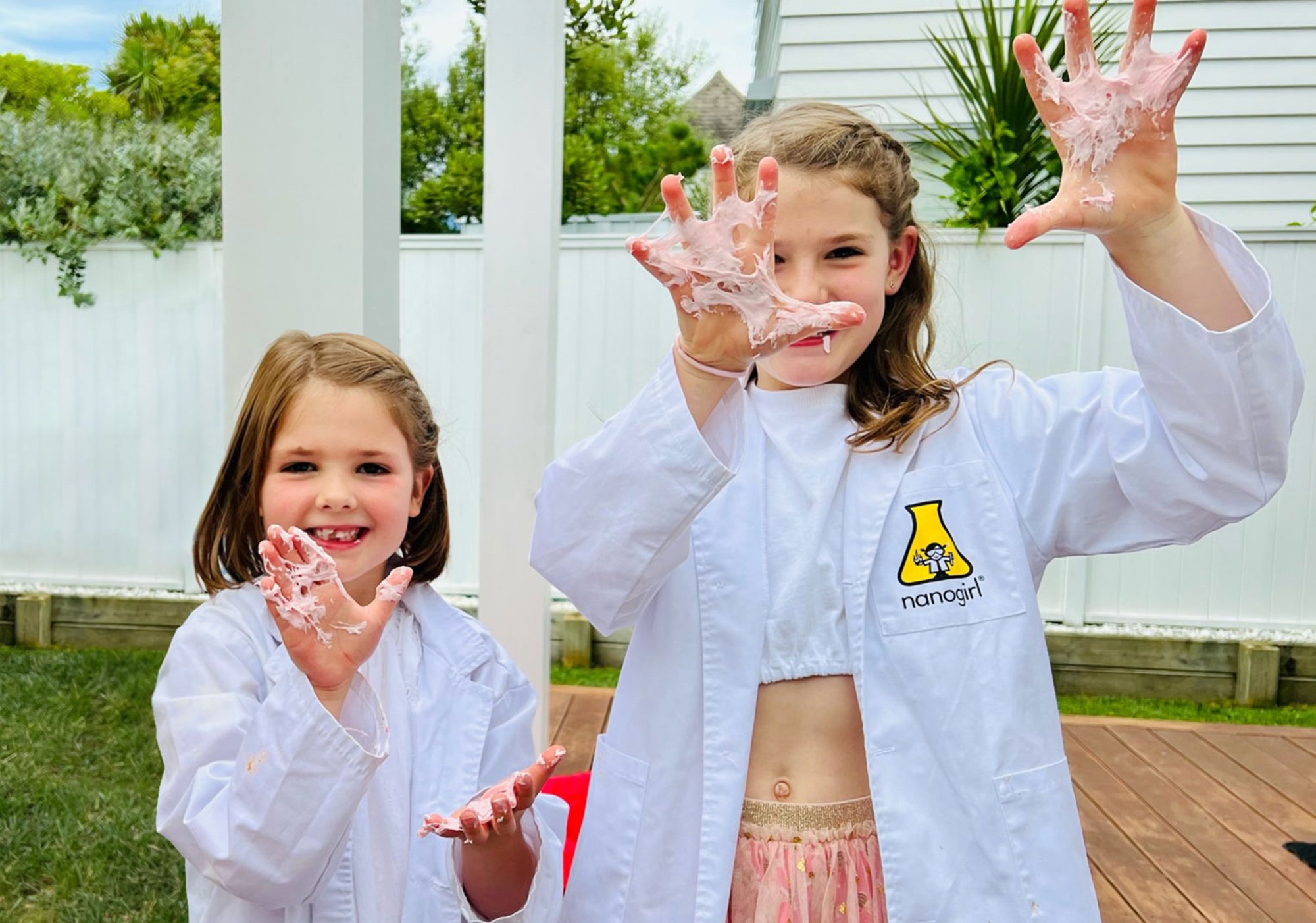 Stress-Free Entertainment
We take care of the party prep while you sit back and enjoy the show!
---
Once you've booked your party, we'll be in touch to make sure we understand all the support you need to make your birthday special and stress-free!
Party Add-ons
We offer free party invitations and can also supply goodie bags or party favours for your event. Visit our online shop for more awesome science gifts for your young scientist—from Nanogirl books and backpacks to microscopes, lab coats and more!
Accessibility
We know that some parties may need to be tailored for accessibility and children with special needs. We have lots of experience in this including touch-focused parties for children with vision impairments, and providing ear defenders for sound-sensitive children. Send us an email with your specific needs and we'll do all we can to help.
More Great Parent Reviews
"Our experience with the Nanogirl team was amazing. We hired them for a 10th birthday and they did a slime party. The kids had a great time, the presenters were fun and interactive and communication was great. Highly recommend and would definitely have them at future parties."
"Absolutely winner birthday party. There was something for everyone and the kids all had their favourite slime. Would recommend Nanogirl parties to anyone looking at something different, that gets the kids involved and teaches them a little science at the same time. Thanks for making this a fun, interactive, seamless party especially coming out of lockdown. The communication and flexibility was top notch."
"Sublime Sarah and Cosmo Cass really brought science to life for the next generation of super-heroes. We loved how the science behind the slime was never "dumbed-down" for the children, but was explained clearly, simply and such a fun, engaging way. The kids loved it … and so did we! We are already planning our next party."