Experience the wonder of Nanogirl Live international touring science shows that engage, inspire, and may just blow you away—fun for all ages!
Be the first to hear about Nanogirl Live tours and events by subscribing to our newsletter or following us social media.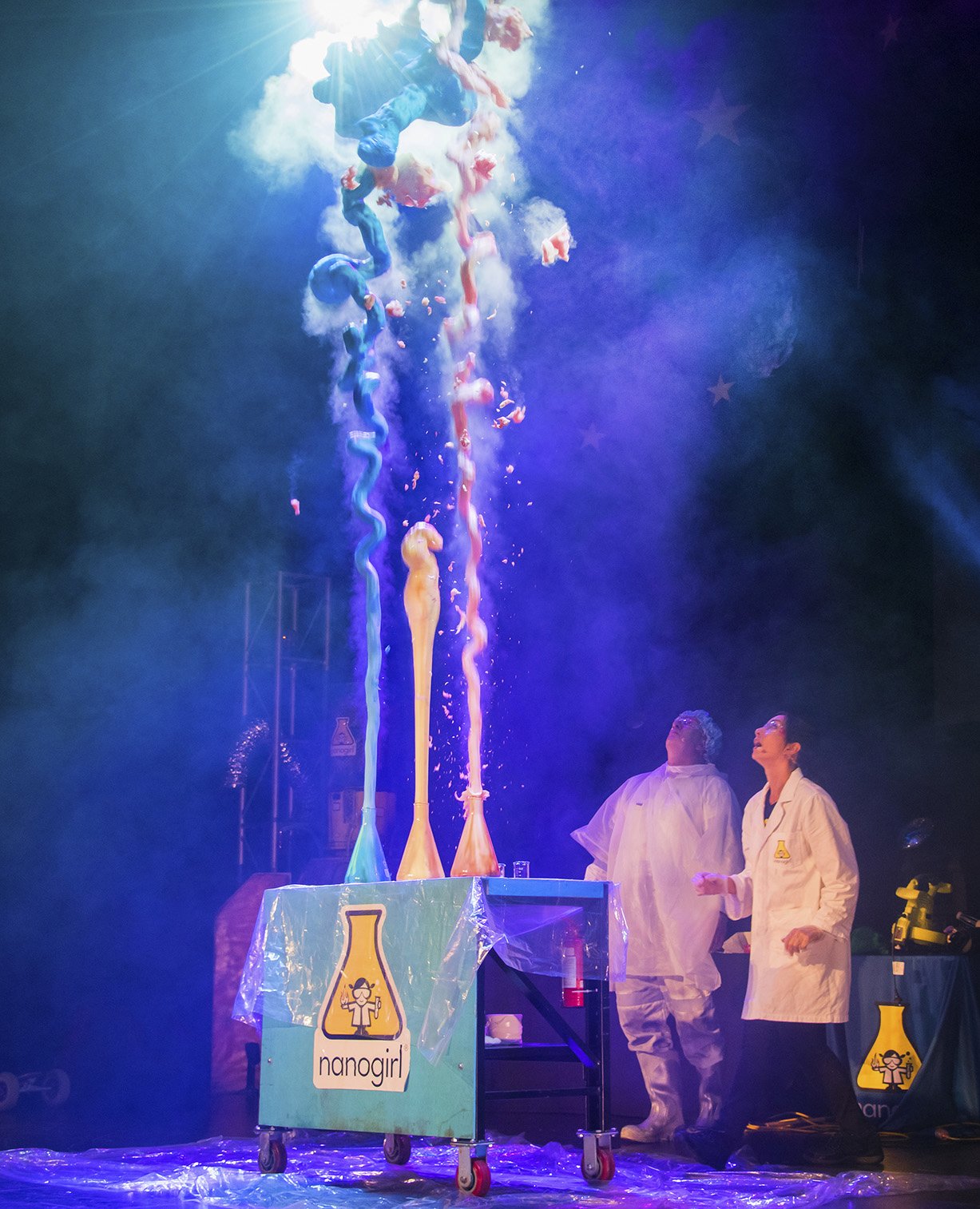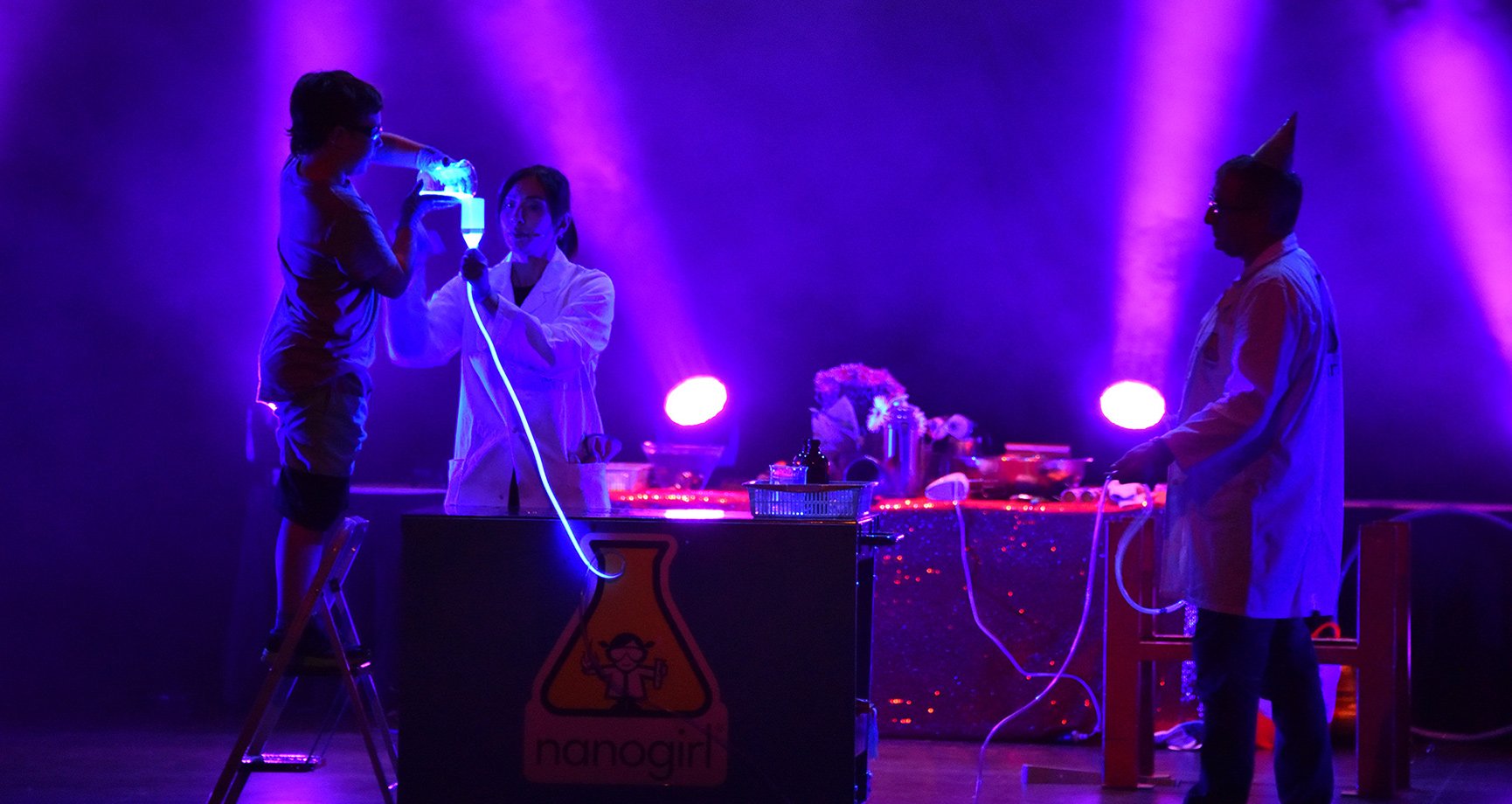 Discover Nanogirl Live
Nanogirl Live science shows are entertaining, educational and explosive!
Welcome to Nanogirl Live, where fun, engaging narratives and incredible feats of science and engineering come together to create an unforgettable experience for audiences worldwide.
Originally created in New Zealand, Nanogirl Live science shows have crossed borders, touring internationally, and have been translated into multiple languages, ensuring that audiences worldwide can be part of these fun-filled theatre experiences.
Purchase a ticket to see Nanogirl Live and you're guaranteed a mind-blowing, science-filled theatre experience for the whole family!
Igniting a Lifelong Passion for STEM!
The excitement in the eyes of our audience says it all—Nanogirl Live shows are hugely impactful, inspiring and will—for some of these young people—be the moment that they look back in the future as being the spark that led to a lifelong passion for STEM (Science, Technology, Engineering & Maths).
Theatre Shows Backed by Science
Created by Nanotechnologist and Materials Engineer, Dr Michelle Dickinson (MNZM)— Nanogirl is a superhero with a difference! She builds her superpowers with the help of STEM to manoeuvre through challenges and empower young people to explore the world's biggest questions.
Nanogirl Live shows have proven to be more than just entertainment in research conducted with the University of Auckland. Our shows are proven to positively impact young people's attitudes toward science and engineering while challenging stereotypes about professionals in these fields.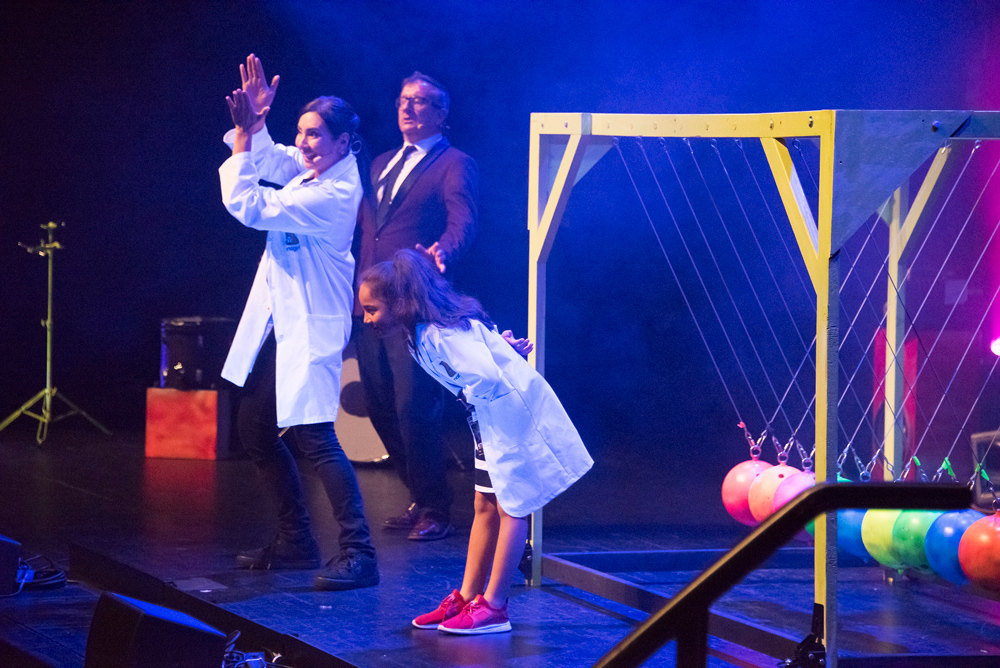 Bring Nanogirl Live to your Event
If you're interested in putting on an unforgettable science show for all ages, chat with us about giving your upcoming festival or event the Nanogirl Live WOW factor!
Extra Nanogirl Live Offerings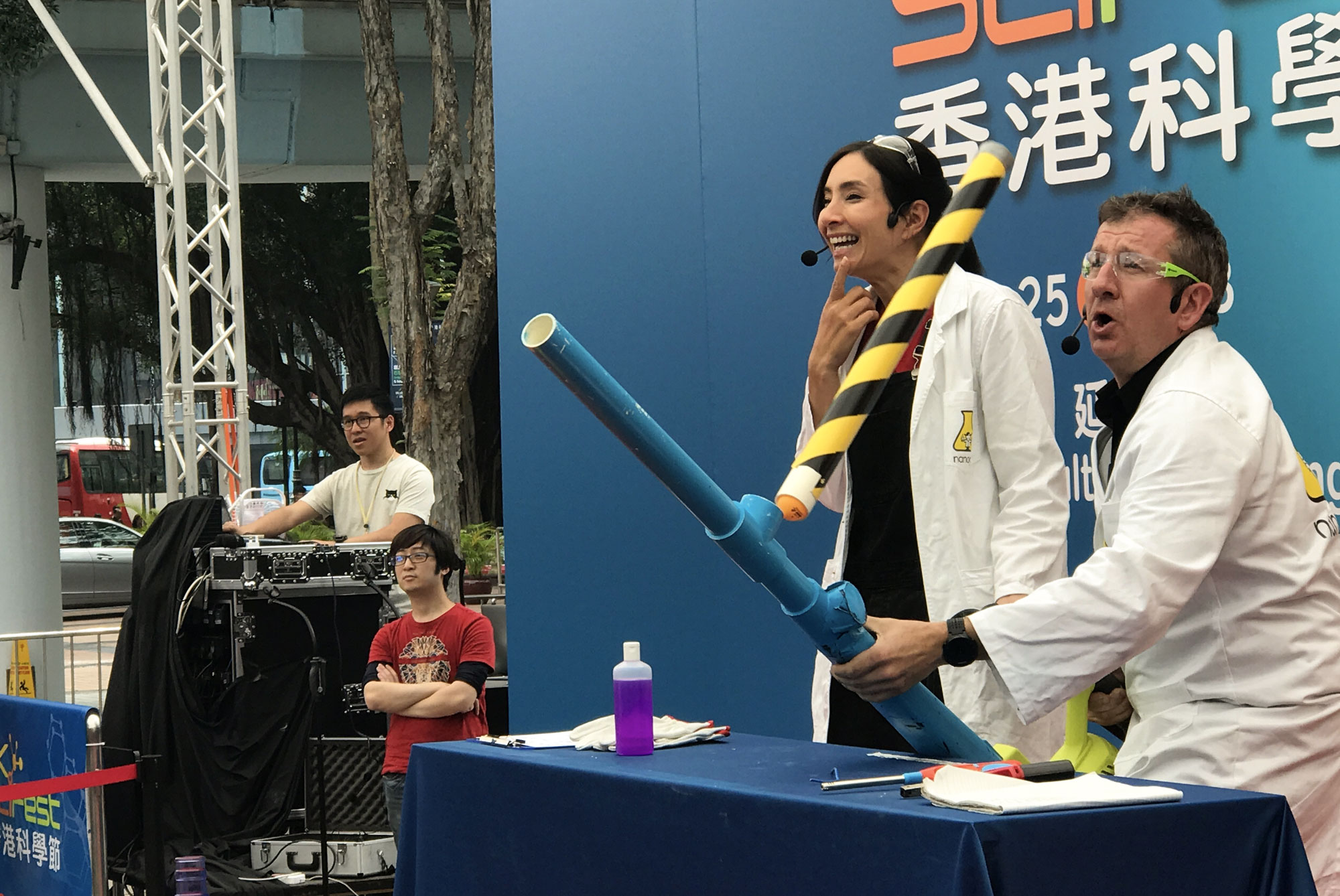 Street Science
Exhilarating, interactive and up-close live science demonstrations!
In addition to our mall shows and full stage shows, we offer Street Science—highly engaging, interactive science shows created specifically for outdoor 'busking' style engagements.

Often presented in festival settings alongside our full stage shows, Street Science brings audiences close to the action, with Nanogirl scientists engaging directly with the crowds.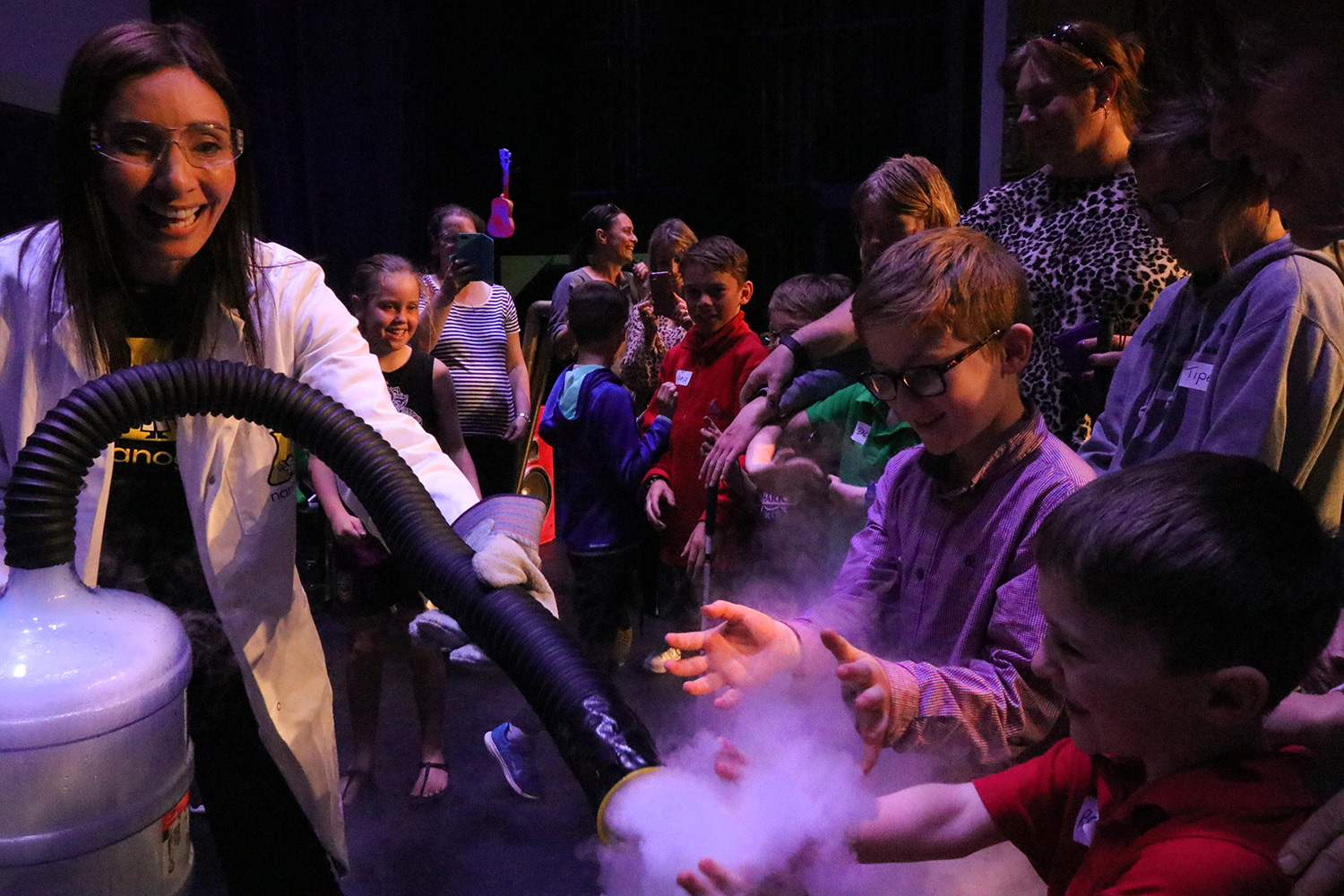 Touch Tour
A theatre show unlike any other!
For each of our theatre shows, we're able to offer a Touch Tour experience for low-vision and blind audience members who are given the opportunity to meet Nanogirl performers, touch costumes and props and get a sneak preview of experiments included in the performance.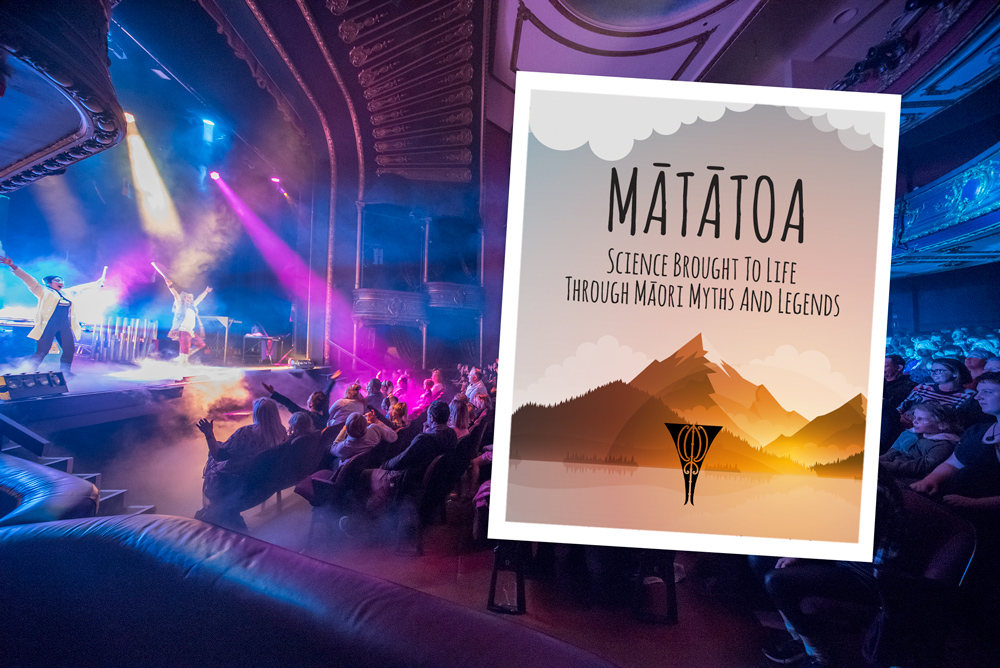 Mātātoā
Māori myths and legends bilingual show
Performed in the Nanogirl team's trademark explosive and fun style, Mātātoa is a bilingual (Māori and English) show that rediscovers mātauranga Māori passed down through pūrākau, our myths and legends. Connecting audiences to the knowledge around them and showing how this knowledge—and the new discoveries that our tamariki make in the future—can help to shape our world. This show explores the legends of Tāwhirimatea, Rūaumoko, Tangaroa, and more.