Explosive Live Shows
From mind-blowing, theatre performances to our Street Science events, every Nanogirl Live! show is designed to inspire and engage our young audiences in the wonders of STEM!
Nanogirl Live! Theatre Shows
Live science edu-tainment, designed for diverse audiences
---
A fun, engaging narrative and incredible feats of science & engineering make Nanogirl Live! a hit with audiences worldwide. The story in each script supports audience engagement, and retention of the science principles communicated.
To be the first to hear when a new Nanogirl Live! theatre tour is announced, subscribe to Nanogirl news below or follow Nanogirl on social media.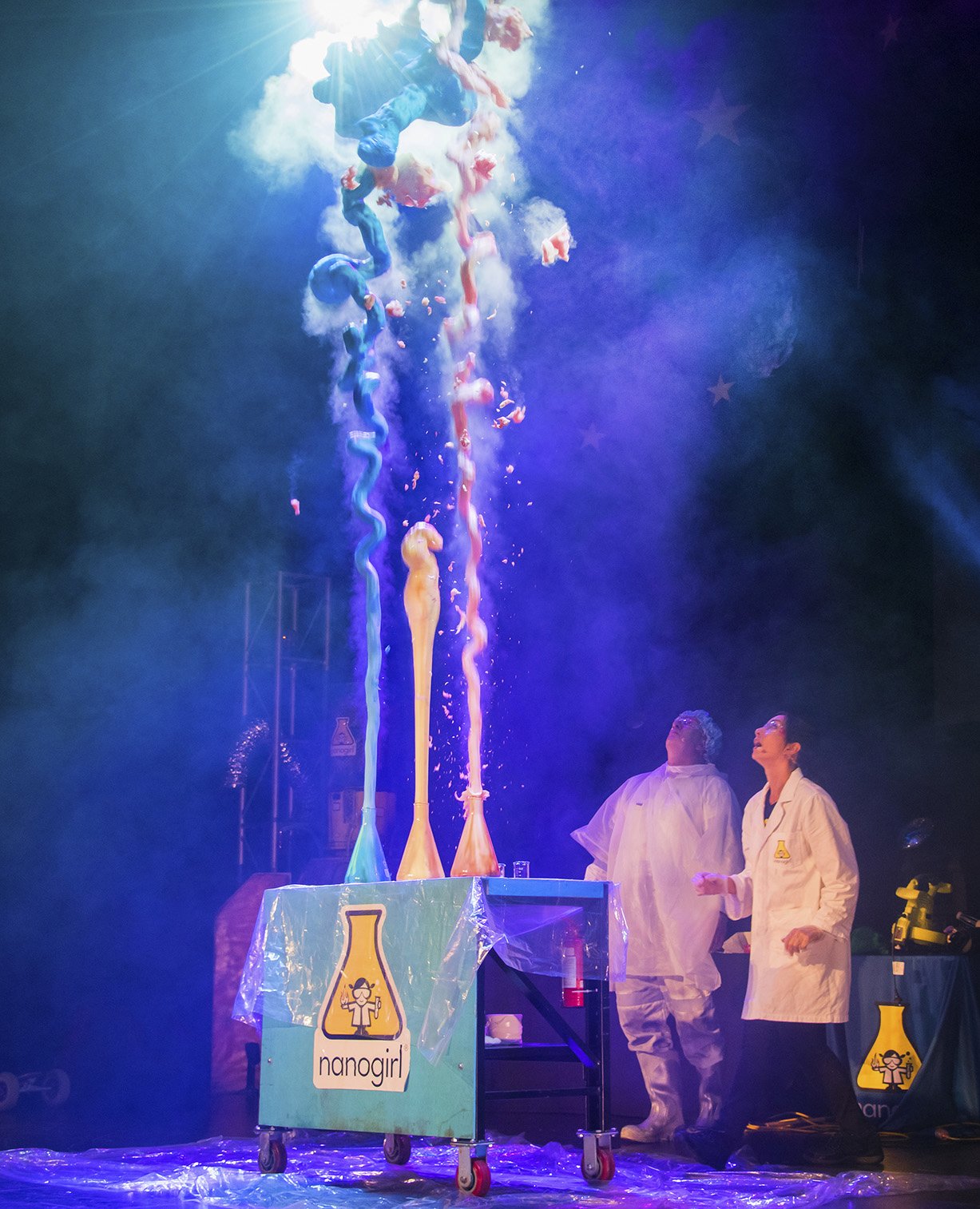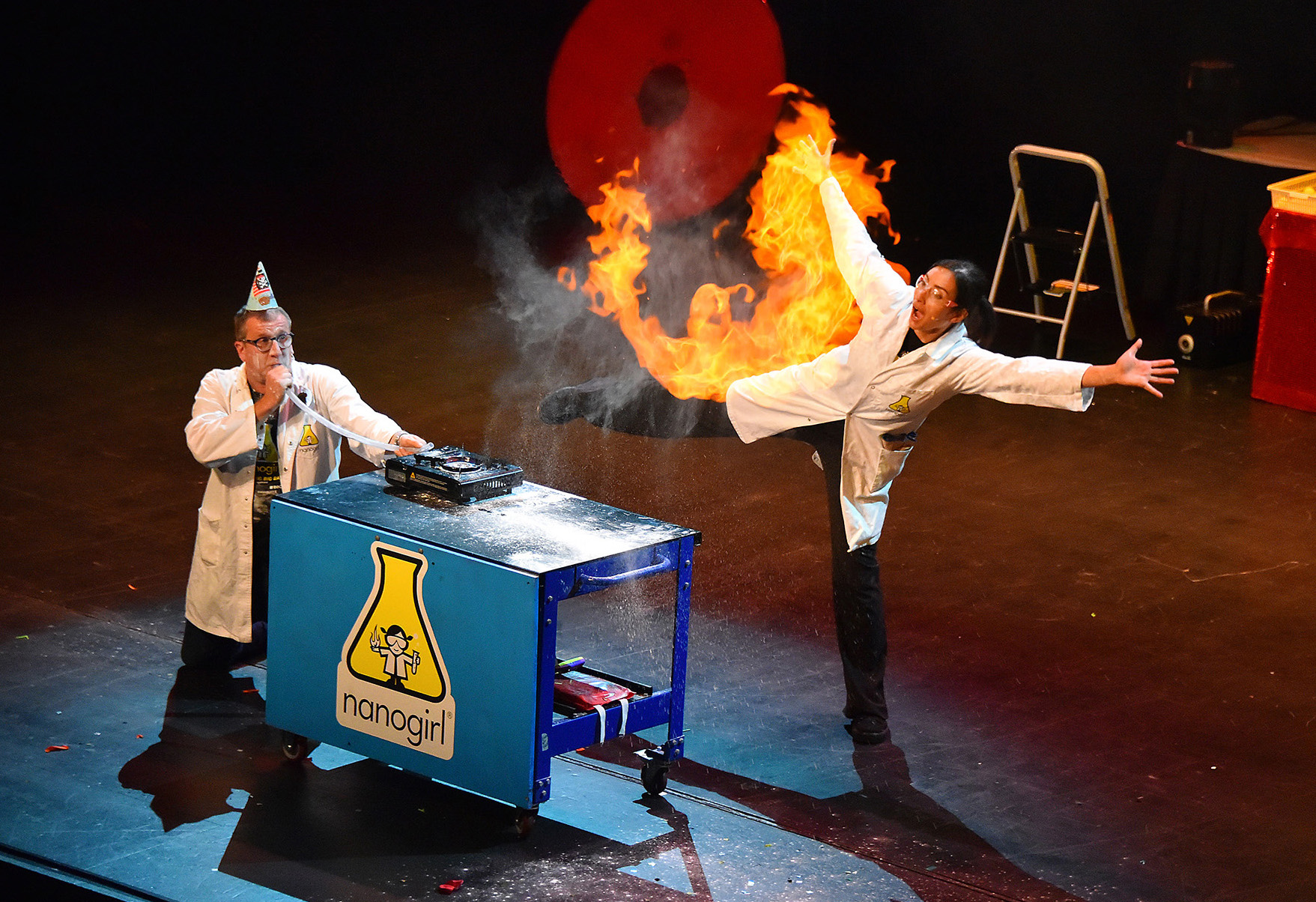 Spectacular Theatre Shows
We have fully tour-ready shows, each containing a unique narrative, with amazing science and engineering demonstrations.
---
Little Bang, Big Bang
It's Nanogirl's lab assistant, Boris' birthday! With the help of some clever science—including exploding balloons, instant liquid nitrogen ice cream and a fire extinguisher-powered shopping trolley—it's going to be the best party ever!

Engineering Magic
Boris has ambitions of becoming a magician, but he'll need Nanogirl's help to get his illusions to work. Will Nanogirl survive being hit by a hammer on a real life bed of nails?

Out of this World
Boris is determined to be an astronaut and fly into space! This high-action show is filled with space science experiments, from rocket jet-packs to a real life tornado!

Bring on the Noise
Nanogirl's trusty lab assistant, Boris, has his eyes on the prize of a talent quest, but he'll need Nanogirl's help to get his act sounding good enough to blow the judges away! Featuring a huge airzooka, a flaming sound frequency tube and dancing laser beams.

Mātātoa
Performed in the Nanogirl team's trademark explosive and fun style, Mātātoa is a bilingual (Māori and English) show that rediscovers mātauranga Māori passed down through pūrākau, our myths and legends. Connecting audiences to the knowledge around them and showing how this knowledge—and the new discoveries that our tamariki make in the future—can help to shape our world. This show explores the legends of Tāwhirimatea, Rūaumoko, Tangaroa, and more.
Each show is readily adaptable to suit a variety of spaces, including lecture halls and smaller performance spaces.
Bring Nanogirl Live! to your Event
Chat with us about giving your upcoming festival or event the Nanogirl Live! WOW factor.
---
The excitement in the eyes says it all—Nanogirl Live! theatre shows are hugely impactful, inspiring and will (for some of these young people) be the moment that they look back on in the future as being the spark that led to a lifelong passion for STEM.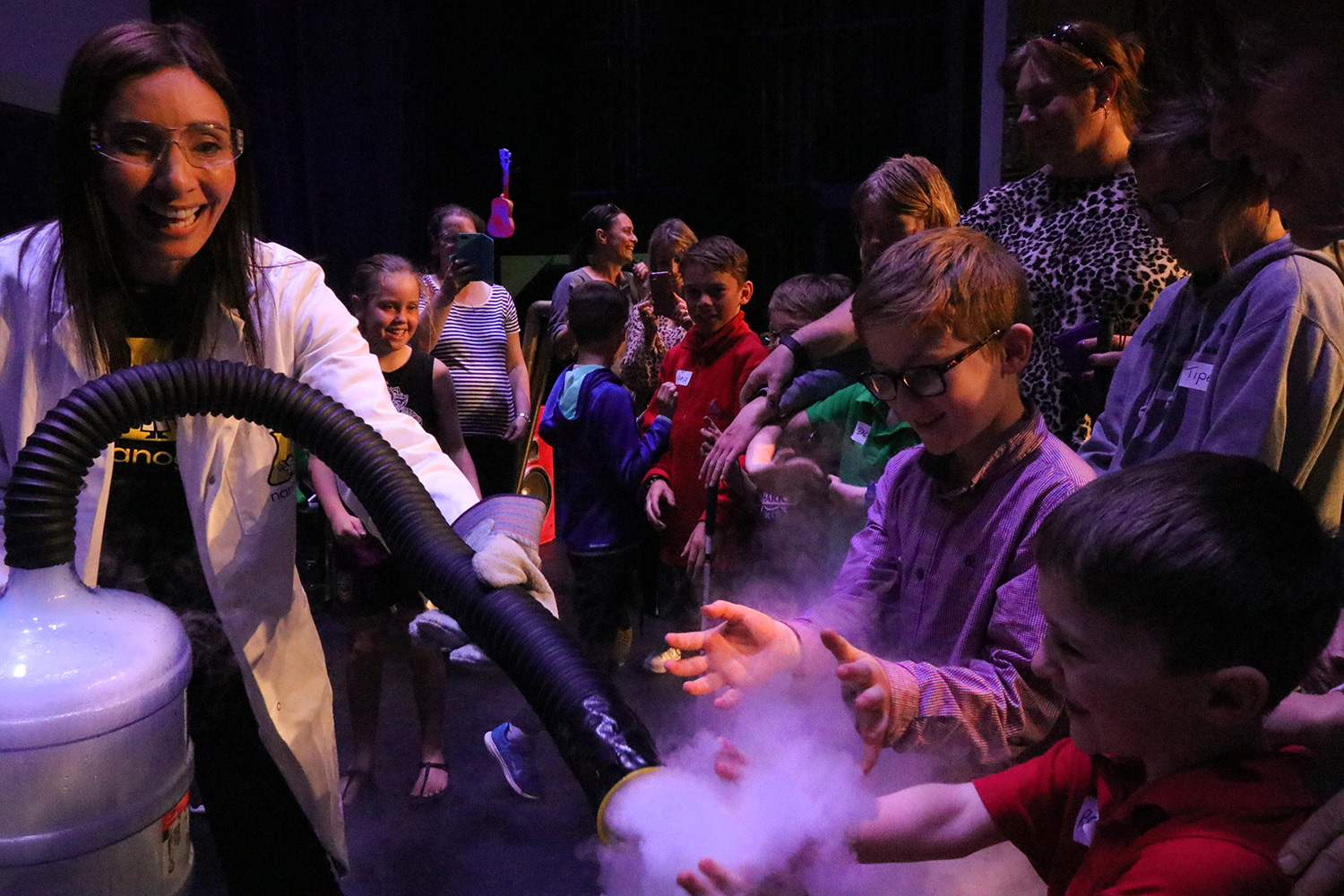 Touch Tour
A theatre show unlike any other!
---
For each of our theatre shows, we're able to offer a Touch Tour experience for low-vision and blind audience members who are given the opportunity to meet Nanogirl performers, touch costumes and props and get a sneak preview of experiments that are included in the performance.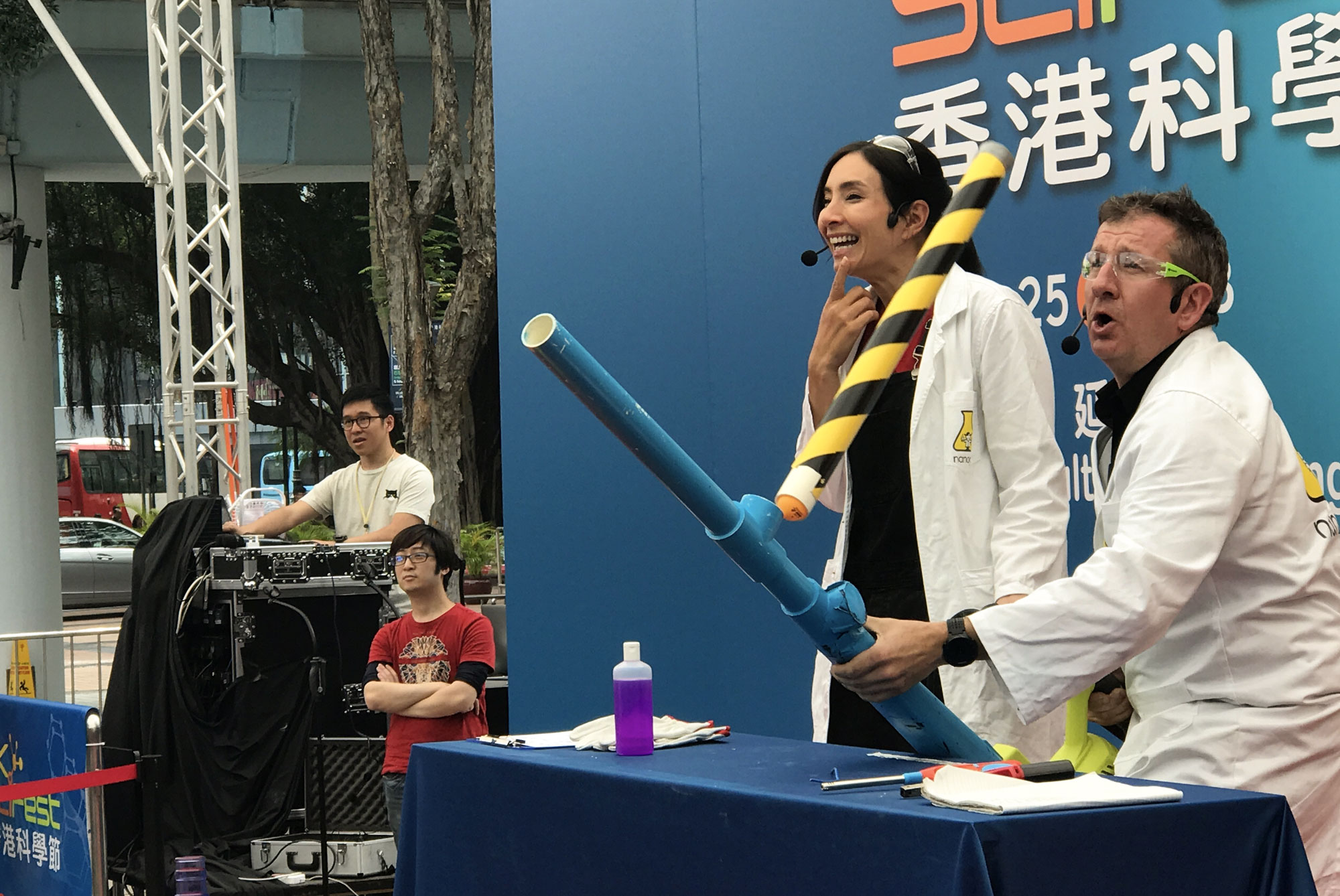 Street Science
Exhilarating, interactive and up-close live science demonstrations.
---
In addition to our mall shows and full stage shows, we offer Street Science—highly engaging, interactive science shows created specifically for outdoor 'busking' style engagements.

Often presented in festival settings alongside our full stage shows, Street Science brings audiences close to the action, with Nanogirl scientists engaging directly with the crowds.