Nanogirl Science
Birthday Parties!
Treat your child to a fun-filled Nanogirl party, packed with entertaining hands-on science experiments! Make this year's birthday a celebration to remember—just choose a party theme, and let us do the rest.
Blow your guests away with a bubble party to delight both kids and kids-at-heart!
Ages 4 and over
Roll up your sleeves and get ready to get gooey with this slime spectacular!
Ages 6 and over
Celebrate your birthday with a BANG with this colourful, fire-filled science
experience!
Ages 8 and over
Awesome Fun, by Real Scientists!
Nanogirl Party presenters are knowledgable science experts with a passion for children's entertainment.
---
Our presenters are genuine (and brilliantly engaging) science experts able to answer all of your children's questions and create an unforgettable birthday experience! Each presenter is police vetted and trained by the same team who create our smash-hit international theatre shows.

Spectacular Experiments!
With three unique and exciting science party themes—Bubbles, Slime and Fireworks—you're sure to find the right party for your child. From cloud-filled bubbles and edible marshmallow slime to dazzling coloured flames, our experiments are designed to delight! Our interactive parties put kids in the scientist's seat to experiment and discover for themselves!
What Parents are saying about Nanogirl Parties
"Amazing communication prior to the show. Show was awesome and the children were entertained for the whole hour which was impressive with children as young as 2. Made my son's birthday party one to remember for sure. Highly recommend!!"
"What an awesome birthday event! Rocket Girl (Jude) was amazing with 22 kids for our boy's 7th. The kids had a great time and the event went really smoothly. Love supporting and empowering our kids with science, especially with women in science. Highly recommended."
"The party exceeded our expectations!! Sarah the scientist was absolutely amazing and kept the kids (and adults) completely engaged the whole time. So professional and extremely well-run. Would absolutely recommend."
"So incredible!!! They were so engaging and fun and also stayed after the show to give every kid a chance to be part of the experiments, so they weren't just spectators. So awesome to be able to give my girls an example of something really cool, that involves their smarts! Couldn't recommend more!"
"The Nanogirl team were wonderful to work with. They went above and beyond to ensure Miss 8 had the party she desperately wanted. The booking process was super easy, communication was thorough and the party entertaining and informative. Everyone loved & looked super scientific in their Lab coats I purchased as party favours."
"Tornado Tammy was amazing. My group of 8-10 year olds were captivated by the experiments. Think we have created a budding scientist or two. Highly recommend."
Stress-Free Party Entertainment
We'll take care of all the entertainment and cleanup while you sit back and enjoy the show!
---
We'll bring the party to your place, or a location of your choice. We supply all the equipment—including waterproof mats to contain any mess and we'll do all the cleanup at the end.

Party Add-ons
To make your party planning even more effortless, we offer free party invitations and can also supply party goodie bags or party favours for your event. Visit our online shop for more fun-filled science gifts for your party—from Nanogirl books and microscopes to lab coats and more!
Accessibility
We know that some parties may need to be tailored for accessibility and children with special needs. We have lots of experience in this including touch-focused parties for children with vision impairments, and providing ear defenders for sound-sensitive children. Just send us an email with your specific needs to party@nanogirllabs.com and we'll do all we can to help.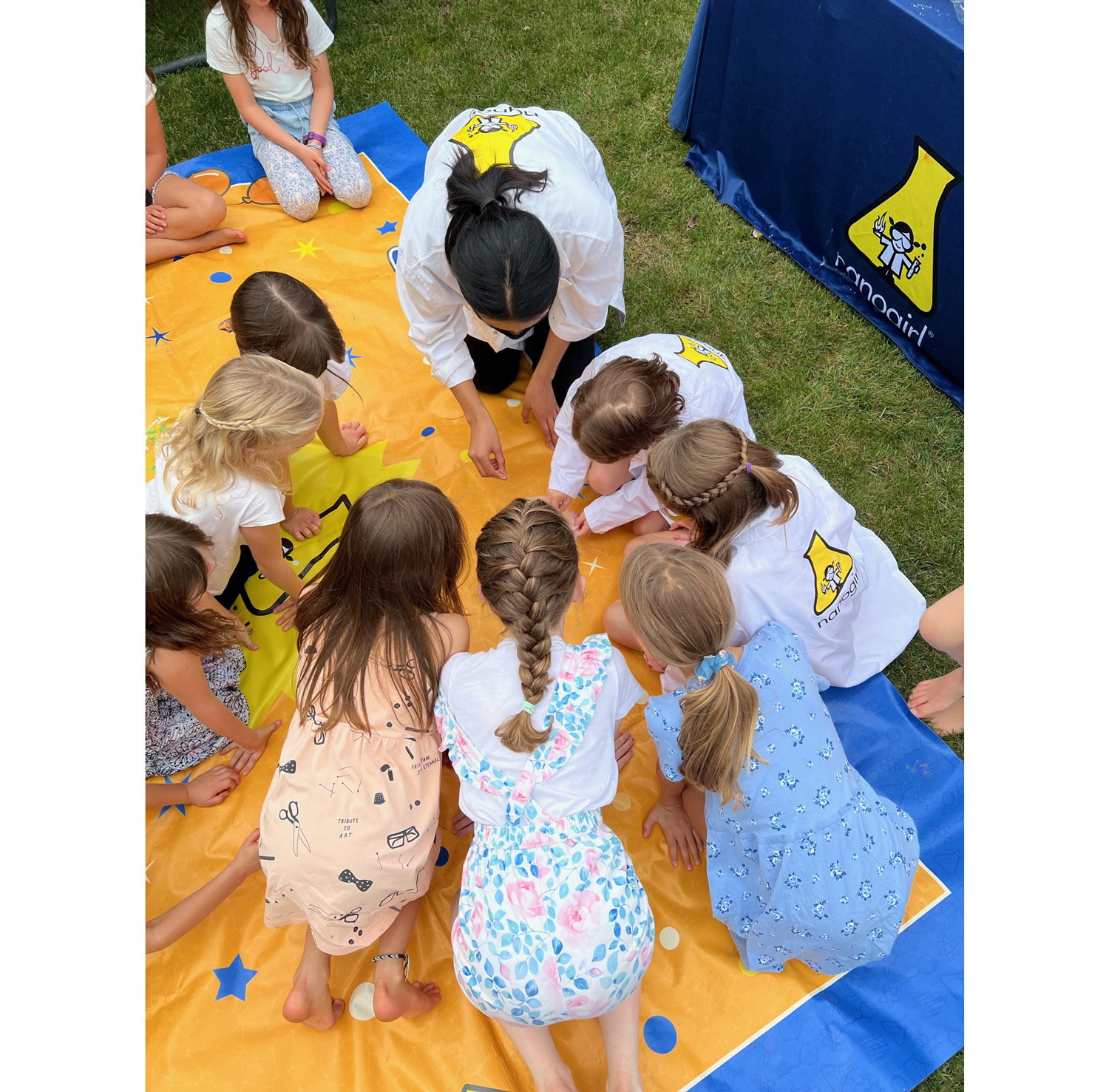 Spreading the Joy!
---
We know that big birthday parties are not an option for all children. Thanks to our Buy One, Give One initiative, we're bringing science-filled birthday joy to a family who wouldn't otherwise have access. For every ten birthday party bookings we receive, we gift a fully-funded Nanogirl Birthday Party for up to ten children!